Define Your Park's Important Role
in the Regional Business Community
... and Work it to Your Advantage
by Peter Pelland
Let's be honest. How many people reading this, as a child in school, ever thought that you would see an African American elected President of the United States? Do you think that Barack Obama and his early supporters just really wanted to get to know New Hampshire and Iowa in the winter? Of course not. Use whatever cliché you'd like - "thinking outside the box", "pushing the envelope" - but old stereotypes are being broken every day.
"Upscale camping", "luxury camping" - the new term is "glamping", and there are people outside of this industry who think that the terms "upscale, luxury, glamour" and "camping" are oxymorons ... mutually exclusive terms that cannot be used in the same sentence. I've got a client who owns a small group of campgrounds here in the Northeast. His main home is in Florida, and he's said to me, "Peter, I live in a community of millionaires. If I go to a party, people ask me what I do for a living. I tell them that I own campgrounds, and they back off a bit." What is happening here? Stereotypes are coming into play!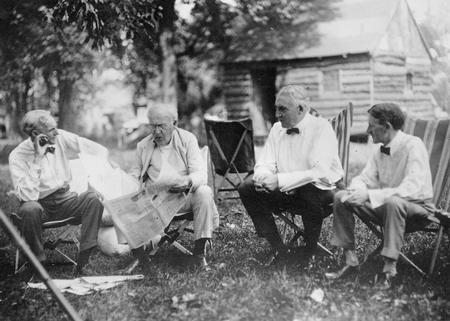 What some people are forgetting is that camping originated with wealthy American industrialists ... people like Thomas Edison, Henry Ford, and Harvey Firestone (shown camping, in the photo above, with President Warren Harding), who realized that access to what was then thought of as "the wilderness" would rely upon their inventions and innovations. They would camp using Ford automobiles that for decades to come would include Firestone tires as standard equipment. Thomas Edison, of course, invented just about everything else. It didn't take long for camping to catch on with the masses of the American population, unlike similar "upscale" pursuits like polo and cricket. Why? Camping is a great idea! Where would we all be today if everybody still thought of camping as only a pursuit of the privileged and wealthy?
Times have changed and are continuing to change. In the last presidential election, the final three candidates were an African American, a woman, and a man who would have been the oldest individual ever elected to a first term of the presidency. Until this year, who would have guessed that a 400 site non-sunbelt camping resort could be filled to capacity for a cold week in January? That's exactly what happened with Cherry Hill Park, the closest campground to Washington, DC. Yes, that may have been a once-in-a-lifetime opportunity (which the Gurevich family embraced), but there are similar, smaller-scale opportunities facing every campground owner on an ongoing basis.
Most Business Owners Do Not Understand the Camping Industry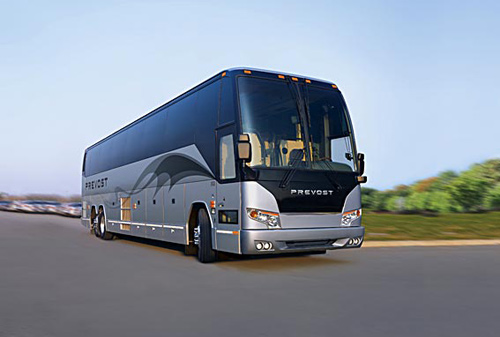 One of the stereotypes that makes me cringe is when I hear, "Campers are people who are too cheap to stay in a motel." This comment can only come from somebody who has never stayed in either a motel or a modern campground. Many people outside of this industry have no idea what a Class A motorhome can cost or the financial commitments that individual campground owners have made in infrastructure and amenities that are all designed to insure their guests' satisfaction. Let's face it: The movie "Psycho" wasn't set in the Bates Campground; it took place at the Bates Motel!
Despite the reality that we all understand, still today, many owners and managers of major tourist attractions - perhaps some in your back yards - continue to function under the mistaken impression that a 3-room bed and breakfast is capable of sending them more business than a 150-site campground. That is a fallacy - and a stereotype - that each one of us needs to work to change.
This really hit home with me when I was producing a new website for a campground in Pennsylvania a few months ago. In compiling a page of major area attractions that might be of interest to the campground's clientele, I found one instance after another where these attractions – that are dependent upon tourist traffic – failed to provide lists of area accommodations that included family campgrounds. Out of 16 major attractions, 10 provided no direct links whatsoever to accommodations; 2 included links to regional tourism websites that might, indirectly, provide links to member campgrounds; 2 provided direct links to local accommodations that only included hotels and bed & breakfasts; and 2 provided direct links to campgrounds (including our client). Two out of sixteen. These numbers are not good, and it is safe to presume that the same results that are found in Pennsylvania would be found in Vermont or New Hampshire.
What is wrong with this picture? Without places to stay, major attractions would be limiting their markets to visitors who are either local or within a reasonable day-tripping distance. On the same token, without area attractions to justify an extended stay, most campgrounds – which are generally not destinations within themselves – would have fewer guests and fewer overall days of occupancy. There is a synergy here, and it is somebody's role to insure that area attractions fully understand – and appreciate – the role that campgrounds play. This goes back to the three-room B&B versus the 150-site campground logic. It would be easy – and merely an excuse – to blame National ARVC or the state associations for not doing their jobs; however, the truth is that the responsibility lies in your hands.
Your Website Is the Tool to Make This Happen.
Let's Take a Look at the Importance of Outbound Links
Why worry about these website links in the first place? There are several reasons behind the importance of these links. Let me outline them.
1) Your website is probably your campground's single most important marketing tool – and certainly its most cost-effective. As such, one of your goals should be to provide visitors with the most complete information possible … one stop shopping, so to speak. By providing complete information, you will increase the amount of time that visitors spend on your site. The amount of time spent on your site – building upon the experience – is directly proportional to the likelihood of the visitor taking the intended course of action … in most cases, a reservation request. You also want to keep visitors at your site. By providing a full range of information that might be necessary prerequisites to your guests' decision-making processes, they will not need to turn to other informational sources. There is a rule of thumb in the website development industry that says "three clicks and they're gone". If visitors cannot find the information they need within 3 clicks from their landing on your site's Home page, you will lose them to another site. In most instances, they are going to forget their point of origin (your site), and you will have allowed a potential guest to slip through your fingers … and quite likely into the hands of a competitor with a more informative site.
2) The second explanation for the importance of links to area attractions on your site is to increase the amount of traffic back to your site. Yes, you heard that correctly. Outbound links to external sites will improve your own site's link relevancy – and stature – in the eyes of the search engines. Particularly if your links are to established websites that are considered more important than your own (and, yes, there are measurements of this), your own site's search engine ranking will improve. Your mom was right when she told you to pick your friends carefully! Of course, a higher search engine ranking will send more traffic to your site, and an increase in traffic will, once again, lead to an increase in the number of reservations.

3) The third major reasons to build your outbound links is because these will provide you with leverage when you contact those area attractions to ask them to provide reciprocal links back to your site. There are three primary sources of traffic to any website: search engines (most notably Google, Yahoo!, and Bing), referring sites (such as Go Camping America, the NCA website, your state association websites, or these area attractions), and so-called direct traffic (people who type your URL into their browser's address bar – perhaps after obtaining a copy of your brochure, seeing one of your directory advertisements, or adding a "dot com" to your business name). Each of these primary sources constitutes roughly one-third of the typical site's traffic, so the importance of referring sites is quite apparent. You will want to do everything possible to increase your site's incoming links. The following are a few tips.
How to Build Your Site's Incoming Links
1) Contact the owners (or managers) of area attractions as one of their peers – a fellow local business owner. Get to know them personally, perhaps networking through a local chamber of commerce or business association. Remember the statement made famous by former Speaker of the U.S. House of Representatives, Congressman Tip O'Neill, that "all politics is local". This is why you shouldn't blame National ARVC or the state associations and expect them to do your job. It is not practical for the national or state associations to contact the area attractions in all 50 states, nor do they actually have your clout in these more local issues. In fact, it is your action at the local or regional level that can lead to benefits for the overall industry. Especially in this age of Caller ID, a business owner is far more likely to take a call from a fellow business whose name is recognized than from some unknown trade association. And, yes, use the phone. An e-mail can be effective, but it simply doesn't carry the immediacy and conversational value of a phone call. Know the owner or manager's name in advance of your call, if you do not already know the person. (Easy enough to obtain with a bit of online research.) Call at a time when the attraction is not likely to be overwhelmingly busy, and ask for your contact by name. "Hello, this is Joseph Smith calling for Stephen Jones." (Note that I didn't say "…Joseph Smith from ABC Campground".) "Does Mr. Jones know what this is in reference to?" "Probably not, but I am certain that he will want to take my call." After a pause: "I'm sorry, but Mr. Jones is in a meeting at the moment." "I'm sorry to hear that. What is the best time for me to call again and find him available?" Do not get discouraged or leave a message with a receptionist.
2) When you get through to that person in the position of authority, thank him or her for his or her time. Briefly introduce yourself and your business, explaining the number of guests and the number of guest nights that you accommodate per year, and explain that the attraction is one of your guests' most frequent destinations. At that point, the person on the other end of the phone immediately knows the answer to the question "What's in it for me?" If he doesn't ask "What can I do to increase the number of your guests who pay us a visit?", it is time for you to suggest that you would like to help his business to further benefit from your presence. Explain that your new website includes a prominent promotion and link to his business. Of course, you will have done your homework in advance, and will already know whether or not his business is providing a link to your campground. Presuming that it does not, suggest that he instruct his webmaster to add a link to your park. If the conversation is going well, one of you may even suggest that the attraction might either provide you with discount coupons for the use of your guests or allow you to sell discount admissions through your office (or your website). The stronger the connection your are able to establish, the more that both businesses will benefit.
3) Get your website linked from the website of every business or association that even remotely processes tourism traffic in your area. This will include your state campground association, your local convention and visitors bureau, your town's website, and your local newspaper's online business directory. In most instances where there are no fees involved, a visit to any of these sites will allow you to locate either a "Submit Your Site" or "Contact" link. If fees are involved, your membership will often be a very small price to pay for the amount of traffic to your site that will be generated. In most instances, people turning to these sites do not know your business exists. This is your opportunity to make your business known and to establish a strong first impression. If a visitor to one of these sites has already heard of your business, your listing could provide exactly the reinforcement that is necessary in order to turn that casual awareness into a week-long stay.
4) Use Google Alerts to be notified of new links to your competitors' websites. Most sites linking to them should also be linking to you. Once you know that those sites exist, let them know that your site exists! Look for a "Submit Your Site" or "Contact" link to initiate contact with these sites.
5) Use advanced search as another tool to uncover links to your competitors' websites. While you are at it, if you have changed your Web address or E-mail address over the last couple of years, for whatever reason, search out sites that may still be linking to an old, obsolete address and get the listings corrected. When a potential camper tries to reach you from another site, if that site has a dead link to your site or a link to a defunct e-mail address, those prospective customers will be given the impression that you are no longer in business.
How to Make Your Links More Effective
Links are links, right? Wrong! Your goal in building your base of referring links is not only to directly increase referring link traffic but also to enhance the search engine ranking that will, in turn, increase your search engine traffic. Sort of a "two for one" deal. There are a few tips that will make those links more effective in the eyes of the search engine robots. In many instances, these considerations will be beyond your control because the referring site (an area attraction's website, for example) will already be designed and will not be changed in order to maximize the effectiveness of your link. Your primary goal will be simply to a link from their site. However, the links from your site (where you do have some control) should following some best practice protocols.
1) Search engines attach more value to text based links than links from graphics. For example, if you are including logos, business names, and descriptions of attractions on a "Links" page of your site, the hyperlinks will be deemed more important by the search engine robots if they are attached to the business names rather than the logos.
2) Search engines attach more value to links that are embedded in related text rather than simply compiled in list format. In other words, the best links will be attached to text that describes an area attraction rather than simply the name of the attraction itself.
3) Search engines do not like pages that are "link heavy". You do not want to create a page with over 50 links to external sites, and you do not want your site listed on a page on another site that has more than 50 outbound links. Your site could be penalized by even being connected to a site that has the appearance of being what is known as a "link farm".
4) Check you site for broken outbound links. If an area attraction, for example, goes out of business or changes its Web address, get that broken link either fixed or removed from your site as quickly as possible. Broken links on your site make you look bad in more ways than one.
Let's Look at Some Specific Examples
The following are some of the major tourist attractions in Vermont and New Hampshire. Let's take a look at their sites and compile a list of who's being naughty and who's being nice. If you are near any of these attractions, you should be promoting them on your site; however, you also need to get them all on board to be sure that they, in turn, are promoting your business.
The Vermont & New Hampshire "Naughty" List:
Basketville
http://www.basketville.com
(Provides no links to accommodations.)
Clark's Trading Post
http://www.clarkstradingpost.com/detailsLinks.php
(Lists only hotels, motels, inns and cottages)
Conway Scenic Railroad
http://www.conwayscenic.com/index.cfm?fuseaction=home.lodging
(Only provides links to hotels, motels, and B&B's!)
Fairbanks Museum
http://www.fairbanksmuseum.org/right.php/pid/2/sid/30
(No links to campgrounds or even the VCA.)
Green Mountain Railroad
http://www.rails-vt.com/tourism_links.html
(No campground links.)
Lost River Gorge & Boulder Caves
http://www.findlostriver.com/htmdoc/links.htm
(Directs visitors to the NH DOTT for a list of accommodations and "receration" (sic).)
Maple Grove Farms of Vermont
http://www.maplegrove.com/links.asp
(Only lists hotels and inns!)
M/S Mount Washington Cruises
http://www.cruisenh.com/lodging.html
(Only includes two campground entries on a long list of Laconia area lodging.)
Mt. Washington Auto Road
http://www.mountwashingtonautoroad.com
(No links to accommodations.)
Mount Washington Cog Railroad
http://www.thecog.com/area_info.php
(No direct links to accommodations.)
New Hampshire Motor Speedway
http://www.nhms.com/tickets/camping_passes/
(Shame, shame, shame … sells camping passes for its parking lot!)
Rock of Ages Granite Quarry
http://rockofages.com/en/gift-shop-a-tourism/acc-a-local-venues
(Shame on them! Shows an extensive list of hotels, motels, and B&B's. No campgrounds!)
Ruggles Mine
http://www.rugglesmine.com/
(No links to external sites.)
Santa's Land
http://www.santasland.com/vermontvisitorslinks.html
(Provides no links to lodging or accommodations.)
Shelburne Farms
http://www.shelburnefarms.org/comevisitus/inn.shtm
(It looks like their own inn is the only place to stay!)
Vermont Wildflower Farm
http://www.vermontwildflowerfarm.com/Directions.html
(Lists one hotel and one inn. No campgrounds.)
Water Country Waterpark
http://www.watercountry.com/pages/hotels.html
(Page is called "Hotels & Links" … says it all.)
The Vermont & New Hampshire "Questionable" List:
Santa's Village
http://www.santasvillage.com/public/plan/accommodations/
(Appears to charge for links. Only campground listed is Twin Mountain KOA.)
Strawbery Banke Museum
http://www.strawberybanke.org/plan-your-visit/lodging.html
(Also seems to sell links. Only campground listed is Shel-Al Campground.)
Vermont Marble Museum
http://www.vermont-marble.com/lodge_dine.php
(May be selling links. Has an e-mail link, if you are interested in being listed.)
The Vermont & New Hampshire "Nice" List:
Champlain Valley Folk Festival
http://www.cvfest.org/cvfest2009/kblodging.php5
(Lists campgrounds!)
Funspot
http://www.funspotnh.com/lo-camp.htm
(Provides an extensive list of campgrounds!)
Polar Caves Park
http://www.polarcaves.com/index/local
(Only campgrounds listed are Yogi Bear - Ashland and Moose Hillock)
Story Land
http://www.storylandnh.com/lodging.html
(Provides a link to the NeHaCa website.)
Think of Links As Only a First Step
Once you have established your credibility and have built the foundation for a working relationship with an attraction, use this as a starting point from which to build. Work on cross-promotional opportunities where you can package camping with various pursuits. If you are linking to restaurants in your area, why not consider a "Camping & Fine Dining" package? Those same restaurateurs who may have thought that campers only eat at McDonald's will be more than happy to pursue partnering arrangements that will send you both business, perhaps in the shoulder seasons when you both need to increase business the most. Just about anything can be packaged with camping, appealing to at least a segment of your clientele. These include the aforementioned dining, theme park admissions, museums and historical sites, music festivals, scenic train rides, rafting and canoeing, auto racing … you name it!
The idea is to think outside the box. Once you have established your park's importance in the minds of your local business community, other business leaders will beat a path to your door in an attempt to capitalize upon the tremendous tourism market which is under your direct influence. In the process, you will be adding value to your park's services that go far beyond basic camping in itself, differentiating yourself from your competitors and earning your campground the perception of being the only logical place to camp within your market.

Peter Pelland
---
This text was originally presented at the
Twin States Campground Conference
(Stowe, Vermont - October 24, 2009)
Pelland Advertising
25 Depot Road, Haydenville, MA 01039 U.S.A.
(413) 268-0100 / Fax: (413) 268-0173
Internet: www.pelland.com
Empowering small businesses with cross-media publishing.
© 2011, Peter Pelland / Pelland Advertising
Portions may be reprinted without written authorization
providing that a credit line with copyright notice is attached.