Interactive
Publications
Introducing Inter-Flip, Powered by Pelland Advertising.
After using one software product to present interactive online directories and catalogs for several years, in 2014 we searched out and found a new product with vastly improved capabilities. This new and improved interface includes a Flash version for viewing on computers and an HTML5 version for viewing on mobile devices; custom backgrounds; icons which make it easy to search, print, download, and e-mail links to friends; many redundant navigational options (including the page edges!); and smooth zooming across a full range of magnifications. Links at the bottom of the page allow users to set the pages to auto flip, turn sound effects on or off, and click on the "Social Share" icon to share the directory on Facebook, Twitter, LinkedIn, or any of the other social media. Another link allows users to toggle in and out of thumbnail views of the pages. We are not aware of another online directory product that is this impressive. Is there a way that one of these could work for you?
Click on our example, below, for the complete Inter-Flip experience!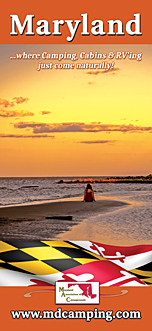 2018 Maryland Association of Campgrounds Directory